China wants to get back to normal as its coronavirus case numbers ease. That could be dangerous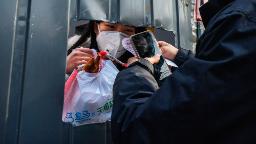 Of course, as most people (hopefully) know, stopping antibiotics at this point is the worst possible move, risking a return of the infection or
enabling the bug to develop resistance to medicine
, potentially putting more people at risk down the line. And yet many people still do it, because it's hard, when things feel like they're going back to normal, to continue to follow medical precautions, particularly ones that effect our day-to-day lives.
A similar dynamic is developing with the novel coronavirus. Even as new outbreaks are reported around the world and we edge towards pandemic levels, the situation is stabilizing in some areas where infections were first detected and people are starting to return to normality.
In China particularly, there has been a major drop in the number of new cases reported in the past week, particularly outside of Hubei, the province where the outbreak began. This has led some areas to lower travel restrictions and begin the slow process of getting back to work.
Liaoning, a province in northeastern China that borders North Korea, was the first to
downgrade the coronavirus emergency response
level from the highest level — Level 1 — to Level 3 on Saturday, according to a statement by the provincial government. This was followed by Shanxi, Guangdong, Yunnan, Gansu and Guizhou, accounting for some 305 million people.
In Hong Kong too, where actions taken by the semi-autonomous Chinese city appear to have avoided an outbreak on the scale of the 2003 SARS crisis, there is a sense of very gradual relaxation. Although two people have died from the virus and the number of confirmed cases continues to rise — it is now more than 90 — an increasing number of the city's residents are beginning to slowly venture back out and about again. Some are even dispensing with face masks, previously a rare sight.
The relative success of Hong Kong in preventing the type of fast expanding mass outbreaks seen first in mainland China and now South Korea and other countries is likely due to the effectiveness of precautions, including closing schools and having large numbers of residents work at home to increase social distancing.
Mixed messages
While a desire to return to normal after weeks of paranoia and quarantine is understandable, the danger may be far from over, particularly in mainland China.
Since the outbreak began in December last year, more than 78,000 cases have been confirmed inside of Mainland China, with the death toll rising to more than 2,700.
Even if the data is accurate, and the number of cases is stabilizing, it may be weeks before it is safe for people to be moving around freely again or gathering in large numbers. We know that the virus can lie dormant and there is strong evidence that it is spread while people are asymptomatic.
But the messaging from the Chinese authorities has been mixed at best and often somewhat contradictory.
Economic pain
If the initial outbreak has been devastating for the Chinese economy, a second could be even worse, further undermining confidence and adding more strain to businesses already teetering. It could also potentially lead to widespread discontent with the government, particularly as it has been pushing the narrative that it is on top of things.
China's leaders have taken dramatic steps to rein in the virus, quarantining millions of people and putting much of the country on lockdown. Were these to have turned out to be for nothing, the public anger could be massive.
At the same time, there's only so long you can expect people to put up with what are often extremely limiting restrictions, particularly when the immediate danger appears to have passed.
China's leaders undoubtedly understand these risks, and will be weighing them against the costs of keeping so much of the country out of work for so long. Hopefully a gradual return to normality will be just that, rather than a window for the outbreak to rebound.
https://59dbfon3s74xregsq489ew2sb8.hop.clickbank.net/

Source link