What to Wear to a Spring Wedding for Men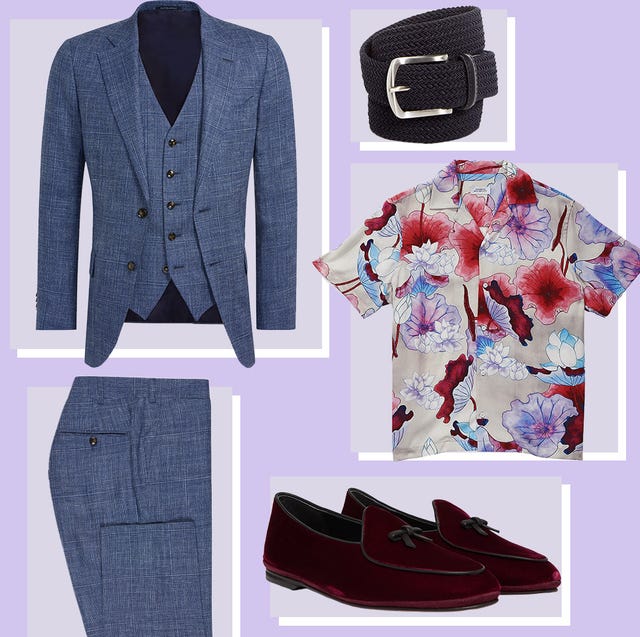 Spring weddings are your seasonal reminder that as winter starts to wane and the weather takes a tentative turn towards the slightly bearable, you still have no significant other to share any of it with. The only relationship I'm in is with a painstakingly crafted piece of Italian tailoring, because you bet your ass it hugs the subtle contours of my body way better than any human being ever could! (Screams internally.) The only thing I object to is the absolute lack of drip at this little shindig, am I right?! Spring weddings, man.
This time, pull up to the ceremony in an outfit that fully upstages the groom and no one will notice you showed up yet again sans plus one, you sad, lonely soul. Booze up, bust a move, and then subsequently break down completely in the corner and contemplate where you went wrong. This time it'll be different, I promise. This time you're coming through fitted.
Advertisement – Continue Reading Below
Lazio Blue Check Suit
Suitsupply
suitsupply.com
$739.00
Suitsupply is still your best bet for tailoring that packs a punch but doesn't break the bank, and this swanky three-piece ensemble in a seasonally appropriate linen, silk, and wool blend is no exception. 
Canty Vivid Lotus Short Sleeve Shirt
Saturdays NYC
saturdaysnyc.com
$70.00
Wear your suit with this silky, almost psychedelic, camp-collar shirt from Saturdays to effortlessly offset its formality.  
Men's Woven Stretch Belt
The Men's Store at Bloomingdale's
bloomingdales.com
$55.00
Braided belts tend to be more casual, and they're an easy way to break up a suit by adding a bit of visual interest to the body. 
Marphy Leather-Trimmed Velvet Tasselled Loafers
Rubinacci
mrporter.com
$415.00
Rubinacci's take on the IYKYK Belgian loafer boasts a black leather trim and a plush burgundy body. 
Double-Breasted Blazer
Boglioli
farfetch.com
$990.00
Don't you want to look like some grizzled old Italian man recklessly chain-smoking on the curb of a picturesque cobblestone street shortly after finishing his fourth espresso of the morning? Of course you do. 
Merino Wool & Cashmere Turtleneck Sweater
The Kooples
bloomingdales.com
$150.00
Every item here should work well with everything else you already own. If you're not big on color, subtle shades of brown are a great way to dip your toe in the water without straying too far out of your comfort zone. 
501 Original Fit Men's Jeans
A tried and true classic, and definitely a flex. Treat your white jeans the same way you would your blue ones (i.e. don't be afraid to beat the shit out of 'em with abandon). 
Claine Ankle Boots
Isabel Marant
24s.com
$187.00
Big western vibes here, in the best way. 
Ludlow Slim-Fit Suit Jacket
You can, and should, wear the entirety of this outfit to every single slightly formal event you're invited to this season. What works for stuffier spring weddings also checks out for almost any other social soiree that requires suiting up. 
Ludlow Suit Pant
J.Crew's Ludlow suit has become a perennial among fervent menswear enthusiasts and everyday men alike, and this version in a sturdy cotton chino is solid indication why. 
Pinpoint Oxford
Kamakura Shirts
kamakurashirts.com
$89.00
Kamakura has been quietly making reasonably priced button-downs in premium fabrics since the brand set up shop in Tokyo in the '90s (thankfully, the fully stocked online store makes it easier than ever to get your hands on their goods stateside). 
Silk Knit Necktie
Bonobos
bonobos.com
$68.00
Worried about wearing a tie again after so much time sticking strictly to sweats? A silk knit style is as timeless as it gets.  
Pure Cotton Handkerchiefs – 7pack
Brooks Brothers
brooksbrothers.com
$35.00
There are few better finishing touches than a crisp white pocket square peeking out of a breast pocket, and Brooks Brothers sells a near perfect version in bulk. 
Russell Loafer
Loake
loake.co.uk
£220.00
If you don't already own a pair of brown suede tassel loafers, allow me to introduce you: Dear reader, please meet one of the most surprisingly versatile shoes in your arsenal, and one you'll want to wear with just about every other outfit you have. 
Advertisement – Continue Reading Below
https://59dbfon3s74xregsq489ew2sb8.hop.clickbank.net/

Source link